Where my time goes and other things.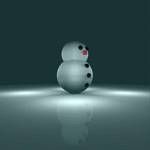 I pass a bit of time playing with these new fangled computer things. I used to look after the image archive here at maths, but now I burn my time looking after out undergrad computers. Its not just me mind you, Ian, Eoin, Ian, Marc and Conall look after our children. You can meet the family if you like
Just so I don't get withdrawal symptoms when I go home, I have an Amiga 4000 running AmiTCP and a http daemon. If you try this you will get
My home home page.
Nothing - the slip line is inactive.
A rather confused slip user - possibly Simon Boyle.
Actually the Amiga has a bit of a personality problem. I've got it running Amiga Dos, MacOS, Linux and more recently NetBSD. I'll have to get myself a bridge board some day. I've also got myself a PC think to run unix on. Its running FreeBSD which I rather like (being used to SunOS 'n all). It also has Linux and Windows installed.
I also wrote a couple of articles about Free Unix. One was for TCD Interface - the college's computer newsletter. The other was for the Irish Times which even made it to Slashdot! The pre-edited versions of both these articles are also available: Interface one, ITimes one. Someone also interviewed me for an Irish language article on SPAM, though they asked the questions in English.
So can I do anything useful/trendy/whatever with these computer yokes ? Well, one pretty thing I've done is for a course in ray tracing is the snowman at the top of the page. We had to write a basic ray tracer, with recursion, shadows and transparency. If you're interested in that sort of thing, you can get the source and documentation in tar'ed gzip'ed format.
I've also written an Openmath to LaTeX converter - you can try it out if you feel like. This was work funded by the EU, for the Openmath project.
I've made various small contributions to FreeBSD which have been accepted. Alot of these things Ian and myself diagnosed. More recently I've begun as a FreeBSD committer.
The NFS cache didn't check execute permission on directories if they were cached - as a result our web server was serving pages it shouldn't have.
Restore didn't work out the block size properly if the file system block size was less than the dump's block size.
I added two options to mount - fstab and cur - which expand to the options in fstab for the file system and the current options for the file system. I also arranged that "noopt" is the opposit of "opt", so you can do stuff like mount -u -o fstab,noatime /usr and then mount -u -o fstab /usr if you want to checksum files without changing their access time.
Lpr did the wrong thing if you told a machine to send a job to another printer on itself using the RM and RP options in printcap. This is advocated in the red sysadmin book, so I thought it should work.
Kirk McKusick accidently changed the NFS link code so it decremented the link count one too many times if you tried to make a cross device link. This took ages to track down and was being tickled by sending mail with MH.
There was a little bug in the icmp code which meant that an outgoing ECHO_REPLY looked like it had come in on the interface which the corresponding ECHO_REQUEST had come in on. The firewall code could be confused by this.
I helped extending the tcp wrapping support in inetd to include UDP services, improved logging and fixed some problems with the code which limits the maximum number of processes per service.
I found a bug in the signal handling code which alowd you to block SIGKILL in -CURRENT. Would have made a great DOS attack.
NFS occasionally calculated the end of the dirty data blocks incorrectly, resulting in NFS writes getting stuck in the kernel.
The slip driver's handeling of different units is pretty nasty and slecting a unit which hadn't been used before could result in a panic.
I've also submitted a few fixes for FreeBSD documentation and man pages too, and have had small fixes accepted into OpenBSD, SAINT and INN.

We also have some silly CGI scripts:
Find out where the GPS clock in our machine room is.
Check your DNS entries all match up OK.
David Malone dwmalone=wp@maths.tcd.ie