Under The Mountain



This page was dedicated to the tracking down of a copy of the New Zealand TV show, Under The Mountain from 1982. However in July 2003 I finally got to see the show in its entirity by purchasing a homemade DVD of it from eBay. eBay have stopped all auctions for it now, however it has since been released on DVD by TVNZ here I saw this tv show many years ago and I loved it. It took me between 2 and 5 years to work out what the title of the show was (as I only had vague memories) and about a year to track it down.

Information

Here is all the information I have gathered about the show. It is not very much, but I hope to build up the information over time, if people sent me more.

The show focused on a pair of twins, Rachel and Theo Matheson. While staying on a summmer vacation in Auckland, New Zealand, they were contacted by a man named Mr. Jones, who had met them briefly eight years earlier. This time, Mr. Jones revealed his true identity and mission. He was an alien, sent from another world to recruit the twins in a battle against another race of aliens. These latter creatures were a family of slimy, slug-like beasts who could take on human form. Led by the evil Mr. Wilberforce, the green monsters were now bent on destroying Earth, and only the twins' emerging psychic abilities could turn them back.

In the US, Under the Mountain was shown on Nickelodeon as part of the Third Eye Series. This included other shows like, "Into The Labyrith", "Children of the Stones", "The Haunting of Cassie Palmer".




The series is based on the novel by Maurice Gee.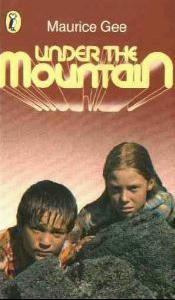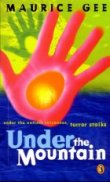 (Left) This is the only photo I have from the show.
(Right) This is the newer cover
(in credits order)
Kirsty Wilkinson
....
Rachel Matheson
Lance Warren
....
Theo Matheson
Bill Johnson
....
Mr Wilberforce
Roy Leywood
....
Mr Jones
Directed by:
Chris Bailey


Written by


Maurice Gee
41 Chelmsford Street,
Ngaio,
Wellington

Filmed in Auckland, North Island, New Zealand

New Series:
According to the IMDB a new series of Under the Mountain came out in 2002. It was also directed by Chris Bailey. However I assume it was never made as I have no info on it. For more information on this series click here.

Links:



Under the Mountain at the IMDB IMDB Under The Mountain Message Board Under the Mountain/Maurice Gee Message Board

If you have any photos or information on the show, email me at